Undergraduate Scholarships
---
IAD Autumn meeeting 2022 Undergraduate Scholarships
The Irish Association of Dermatologists are offering 2 scholarships, open to medical students studying at a University in Ireland with an interest in Dermatology to attend their Autumn meeting in The Midlands Hotel, Portlaoise on Thursday 29th & Friday 30th September 2022. The scholarship recipient will receive complimentary registration, invitation to the IAD conference dinner and two nights' accommodation in the hotel. Recipients would be encouraged to bring along a poster presentation.
Please forward a letter of application by email to Dr Clare Devereux, Honorary Secretary IAD iad@outlook.ie before Friday 5th August 2022.
Application letter should include the following information:
Where they are studying
What hospital they did their attachment
What they enjoyed from Derm attachment
Future career ambitions
---
IAD Autumn meeting 2019 Undergraduate scholarship recipients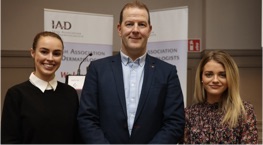 L-R Ms. Nicole Fagan, Dr Trevor Markham, IAD President & Ms Hannah McGrath

Nicole Fagan, University College Dublin
It was such a privilege to be invited to attend the Autumn meeting of the IAD in beautiful Co. Sligo. It was a fantastic opportunity to meet many of the IAD members and having a poster at the event was a great talking point. I enjoyed discussing with many of the members how the specialty has changed in the last number of years with the advancement of biologics and immunotherapies, and where research is headed next.
The two days were full of stimulating experiences and I particularly enjoyed hearing from all of the top class speakers. It was very beneficial to hear succinct explanations of many of the current challenges in dermatology. In addition the presentations given by the NCHDs were very stimulating and I enjoyed the Q&A sessions. From start to finish I could not have asked for a better educational experience.
I would like to thank the IAD for this opportunity, especially Ms. Jacqui Carroll for all of her help and such a warm welcome. It was an excellent experience and I am looking forward to attending many more IAD events in the future.
Hannah McGrath, Queens University Belfast
It was such a privilege to attend the IAD's 2019 Autumn Meeting in Sligo and I am extremely grateful that they created the Undergraduate Scholarship which unites medical students with an interest in dermatology both from Northern Ireland and the Republic of Ireland.
The conference itself was extremely informative and it was an amazing opportunity to hear from speakers so esteemed in the field. It provided a real insight into dermatology as a career and some of the areas of innovation that can be expected in the future.
The scholarship also gave me the opportunity to meet professionals in the field and hear about their experience as dermatologists.
I just want to thank the IAD for this experience and would definitely recommend applying for the scholarship; it is an incredible opportunity and insight into the world of dermatology for all aspiring medical students.
I would like to say a special thank you to Ms. Jacqui Carroll for her impeccable organisation and generous hospitality.
---
IAD Undergraduate scholarship recipients 2018

Laura Browne & Naayema Hussaini, IAD undergraduate recipients autumn 2018
Laura Browne, Queen's University Belfast, IAD undergraduate scholarship recipient.
I want to thank the Irish Association of Dermatologists for the scholarship inviting me to their Autumn Meeting in the Slieve Donard Hotel, Newcastle, Co. Down. I appreciated the opportunity to display a poster presentation. I would especially like to thank Ms Jacqui Carroll who was so helpful throughout the entire process and very welcoming during the conference.
The conference was focused on Psychodermatology which was very interesting and informative.
I am grateful to all the staff for their time and effort in involving me during the event.
It was a wonderful experience and I would recommend any medical students interested in Dermatology to apply for this scholarship. Attending the event has reinforced my desire to pursue a career in Dermatology.
Naayema Hussaini, 3rd year medical student, Trinity College Dublin, IAD Undergraduate Scholarship Recipient
I was shocked and extremely grateful to have received the Undergraduate Scholarship to attend the IAD Autumn Conference and the opportunity to display a poster at this event. The theme of the conference was psychodermatology which I had never heard of as being a discipline in dermatology before and I am thankful to have been given the chance to learn about this discipline from leading researchers in the field of psychodermatology. I have learnt a lot at this conference and I am excited to learn more about psychodermatology in the future as the discipline develops. This event has also given me the chance to meet leading dermatologists from around the world in the clinical and research setting and it has opened many doors for me and has led to other incredible opportunities. I look forward to future IAD events and would strongly recommend medical students who have an interest in dermatology to attend the Spring and Autumn Conferences and to apply for the scholarship as I found this opportunity to be extremely valuable and rewarding. This event has reinforced my desire to pursue dermatology as a career in the future and I would also like to thank the IAD for selecting me for the scholarship and Ms Jacqui Carroll for all her patience, help and support before, during and following the event!
---
IAD Undergraduate scholarship recipients 2017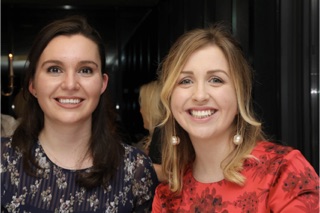 Barbara Marzario & Aoife McElduff IAD undergraduate scholarship recipient's autumn 2017
Barbara Marzario,
University College Cork, IAD undergraduate scholarship recipient 2017
I am very grateful to the Irish Association of Dermatologists for creating Undergraduate Scholarship for medical students studying in both the Republic of Ireland and Northern Ireland with an interest in Dermatology. It is a unique opportunity to learn from leaders in the field while having the chance to present your own research project. I think it is very important to support medical students' interests in specialties and research early in our medical education. I learned a great deal from the informative lectures and case presentations, and was able to network with physicians to coordinate future clinical electives. The Undergraduate Scholarship has most definitely supported my pursuit of dermatology postgraduate training.
Aoife McElduff,
Queens University Belfast, IAD undergraduate scholarship recipient 2017
I am very grateful for the opportunity I was given to attend the 2017 IAD Autumn Meeting in Cavan. This was a great chance for me to gain an insight into all that a career in Dermatology offers. I have always been interested in Dermatology and how treating chronic painful or aesthetically displeasing skin conditions can have such a radical impact on patients' self-esteem and quality of life. However, prior to attending this conference I did not fully appreciate the developments being made in the field of dermatology and the wide range of research opportunities available in this area. I found the presentation on the Skin Microbiome to be particularly fascinating and am keen to see where this research progresses to.
Along with the academic aspect of the conference I also really enjoyed the networking side of the experience. I was able to attend a beautiful dinner in the hotel in the evening and met many experienced Dermatologists there who were happy to answer my questions and gave me career advice. I also made new friends, a student from the Republic of Ireland who also received a scholarship and a dermatologist who was the international scholarship recipient. I cannot imagine where I would've got the chance to meet such people otherwise and really loved the chance to talk to them about their differing experiences of Medicine and future career interests. As well as this, one of the doctors I met at the conference suggested the name of a doctor who I could contact with regards to organising my final year elective in St James' Hospital, Dublin where I went on to undertake my elective last summer. This was a great chance to learn more about the health care system in the Republic of Ireland and without the cross-border contacts I made at the meeting I don't think I would have had this experience either.
I would like to thank the IAD for this scholarship and would hugely recommend any of my peers to apply for the scholarship in future.